Seed and Fertilizer
Genuine Marathon® Seed

Riverside Sod Farm carries Genuine Marathon grass seed, including Original Marathon, Marathon II and Marathon III. The grass seed comes in 1-pound, 5-pound and 25-pound containers for your convenience.

---
---
Marathon® All Season Lawn Fertilizer

To keep lawns healthy and beautiful, be sure to apply Marathon® All Season Fertilizer one month after installation, and every 1- 2 months thereafter. Formulated especially for Marathon lawns. Nitrogen-rich for quick greening. All Season Lawn Fertilizer bag weighs 18 pounds.
Three fertilizers in one, using the three application rates listed below:
Quick Boost— revives faded lawns with a high nitrogen formula.
Winter—high nitrate gives relief to yellowed lawns in cooler weather.
Maintenance—provides the right balance of nutrients to keep lawns green and looking lush no matter the season.
---
Marathon® Sod and Seed Starter Spring and Fall Supplement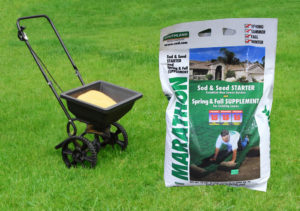 Use Marathon Sod & Seed Starter Spring & Fall Supplement before having your new lawn installed; it can also be applied over the top of the lawn for great results! This specially formulated fertilizer does the following:
Accelerates the establishment of new lawns.
Nurtures a lawn through its critical first weeks.
Reduces the risk of transplant shock.
Helps the grass roots develop faster.
Provides a carefully balanced mixture of vital nutrients.
Is the perfect fertilizer for all house and garden-variety plants.
---
Marathon® Natural and Organic Lawn Food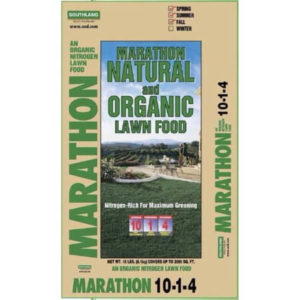 Environmentally conscientious lawn fertilizer with naturally and organically derived nutrients that makes being "Green" even greener! Provides your lawn with nutrients for vigorous growth in the springs, summer, and fall. It is an organic nitrogen lawn food, and as are all natural and organic fertilizers, Marathon Natural and Organic Lawn Food is most effective during the warmer seasons.

---
---